Elon Musk says Tesla will build Model 3s 24/7 until the end of June (April 18/04/18 2018)
Tesla needs to pull back on Autopilot before it's too late
Inside the Tesla factory with Elon Musk
A Timeline of the Tesla Autopilot Crash Investigation
Tesla Inc.'s ongoing spat with the National Transportation Safety Board over a fatal crash has reached new heights, with the electric-car maker and the safety agency releasing dueling statements. Here's a timeline of public remarks so far by Tesla and the NTSB.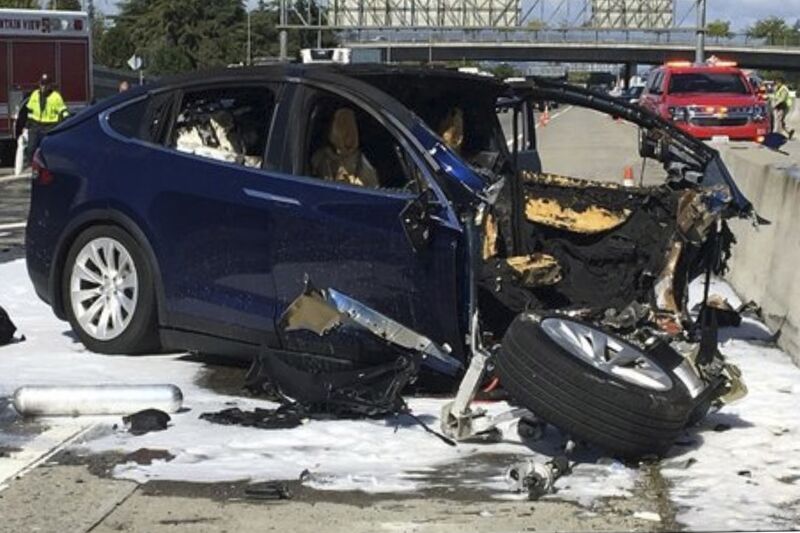 Tesla 29/03/18
It's tough to truly pinpoint where the selling pressure on Tesla is coming from, because there are so many possible candidates. Perhaps the most compelling (not to mention enduring) is the concern around the company's production of its Model 3 sedan. Tesla CEO Elon Musk himself has labeled the situation as "production hell."
Apple Inc
Sell:
166.50
| Buy:
167.13
1.86
(-1.10%)
Prices delayed by at least 15 minutes.
There's also the National Transportation Safety Board's newly announced second investigation into a crash involving a Tesla vehicle. Not to mention Waymo's newly revealed electric-car partnership with Jaguar.
That has sent the stock plummeting 15% over just two days, making hundreds of millions for short sellers and frustrating everyone else. And if Tesla disappoints when it gives a Model 3 production update next week (a scenario for which JPMorgan offers this trade recommendation), the floodgates for selling could truly open.
(7-day damage: -19%)
Tesla elaborates on details and potential cause of fatal Model X crash under investigation
It will be interesting to understand why the John Fitch invented  Impact Attenuation Barrier was missing?
Tesla is dealing with a spike in demand for its Model S and X vehicles.
This again proves that Tesla doesn't have demand problems.
But it also shows that the company has two car businesses: one in luxury vehicles that has matured, and one in the mass-market Model 3 that is developing.
The rise in popularity of cryptocurrencies lately has come with several instances of widespread hacking efforts to hijack computing power in order to mine cryptocurrencies, which is sometimes referred to as "cryptojacking".Tesla was apparently also the victim of such a cryptojacking effort

 In a

blog post

published today, cloud security firm Redlock reports that they found the attack and reported it quickly to Tesla.

The automaker has reportedly fixed the issue. We reached out to the company for a comment and will update if we get an answer.
Update: Tesla sent us the following statement about the situation:

"We maintain a bug bounty program to encourage this type of research, and we addressed this vulnerability within hours of learning about it. The impact seems to be limited to internally-used engineering test cars only, and our initial investigation found no indication that customer privacy or vehicle safety or security was compromised in any way."
Redlock describes the attack:
"The hackers had infiltrated Tesla's Kubernetes console which was not password protected. Within one Kubernetes pod, access credentials were exposed to Tesla's AWS environment which contained an Amazon S3 (Amazon Simple Storage Service) bucket that had sensitive data such as telemetry."
Talks Stall on Tesla's Plans to Open Factory in China
https://www.bloomberg.com/news/videos/2018-02-14/talks-stall-on-tesla-s-plans-to-open-factory-in-china-video
Tesla Model 3 variants delayed; will some buyers lose $7,500 tax credit?
Green Car Reports article from John Voelcker  here 
There Seems To Be A Disconnect Between Tesla's Production Goals And Model 3 Delivery Dates
On the same day that Tesla reiterated its Model 3 production guidance it updated the estimated delivery timeframes on its website and in many customers' accounts. In August last year there was a November 2017 delivery projection for the Standard Battery Model 3, which moved to early 2018 a few months later and is now late 2018 or early 2019. InsideEVs picked up on this and has had numerous followers send in screen shots similar to the one below showing delayed availability.
Hundreds of Tesla Fans are Lining up Outside US Showrooms to View the Model 3
Read more here
Tesla to post Q4 earnings and full year 2017 results on February 7
From Simon Alvarez at Teslarati
Tesla will be posting its Q4 and full-year 2017 financial results after the closing bell on February 7, 2018. A live Q&A webcast will be held at 2:30 p.m. PST (5:30 p.m. EST), where company executives including CEO Elon Musk will discuss the firm's financial and business results for the past year. According to analysts polled by FactSet, Tesla is expected to report an adjusted loss of $3.04 a share on sales of $3.3 billion in the quarter. By comparison, the electric car company posted an adjusted loss of 69 cents a share on sales of $2.3 billion in the fourth quarter of 2016
WHY TESLA'S AUTOPILOT CAN'T SEE A STOPPED FIRETRUCK – Wired

ON MONDAY, A Tesla Model S slammed into the back of a stopped firetruck on the 405 freeway in Los Angeles County. The driver apparently told the fire department the car was in Autopilot mode at the time. The crash highlighted the shortcomings of the increasingly common semi-autonomous systems that let cars drive themselves in limited conditions.
This surprisingly non-deadly debacle also raises a technical question: How is it possible that one of the most advanced driving systems on the planet doesn't see a freaking fire truck, dead ahead?
Tesla proposes big payout if Musk meets lofty goals – By DEE-ANN DURBIN AP Auto Writer
Elon Musk is known for his bold predictions on electric and self-driving cars. Now his pay could depend on whether those predictions come true.
Under a new all-or-nothing pay package, Musk would remain at Tesla Inc. for the next decade and see his compensation tied to ambitious growth targets.
The proposal, revealed Tuesday in a regulatory filing, requires that Tesla grow in $50 billion leaps, to a staggering $650 billion market capitalization.
Tesla Model 3 dual motor design leaks in latest design studio update
Story from Fredric Lambert on Electrek
I've been taking a keen interest in the rise of Tesla, (can't afford one of course), so I thought I'd add a page as Tesla and it's ilk are the future like it or not!
Models
The Tesla Roadster 2008
The first road legal serial production Tesla was the Roadster which was based on a heavily modified Lotus chassis
The Wikipedia page for the Roadster can be found here
You can find a run down of the differences between the Lotus and Tesla from Martin Eberhard co-founder of Tesla here
The Model S 2012
The Model S began delivery in 2012
The Model S is a full size luxury five door hatchback  saloon
The Model S has four base configurations: the 75D (2-wheel and all-wheel), and the 100D and P100D with ranges of 335 miles and 315 miles respectively
The Wikipedia page for the Model S can be found here
The Tesla Model X
The Tesla Model X is a full-size all electric crossover SUV. Model X deliveries started in September 2015. It is offered in 5-, 6- and 7-passenger configurations. Notably, the passenger doors are artiuculating "falcon-wing" designs that open vertically.
The Wikipedia page for the Model X can be found here
The Tesla Model 3
The Model 3 (originally stylized as "☰") is Tesla's third-generation car. The car was originally intended to be called the Model E, but after a lawsuit from Ford that holds the trademark on "Model E", Musk announced on July 16, 2014 that the car would be called "Model 3" instead.
On March 31, 2016, Tesla unveiled the car.Potential customers began to reserve spots on March 31 with a refundable deposit. Tens of thousands were reported waiting to reserve their spot. As of April 7, 2016, one week after the unveiling, Tesla reported over 325,000 reservations,representing sales of over US$14 billion.
The Wikipedia page for the Model 3 can be found here